For English-speaking otome game fans, the amount of games available to us are―or, I suppose "were"—slim. That all changed with mobile gaming, and a company called Voltage Inc began churning out otome games like hotcakes, and the English-speaking otome game fans went from scavenging for crumbs to an entire smorgasbord of dating sims. However, all companies start small, and it took time for Voltage Inc. to develop the feast of games they have currently. However, before we talk about their games, some background might be important.
Voltage Inc, the corporation that earned over 80 billion dollars in 2014, is a Japan based company that originally struggled in order to find their niche. In an interview with the company's founders, Yuzi Tsutani and his wife/Vice Chairperson Nanako Higashi, Tsutani explained that the first initial goal of Voltage Inc. was not to make female-oriented dating sims, but "male-oriented battle games". When that plan failed, they slammed their foot the break and pulled it in reverse, changing their games and demographic in a major way by focusing on otome games. Probably one of the best moves on their part, if you ask me, because that's what got them their billion dollar success story. And quite an interesting one at that.
As the company first started releasing female-oriented dating sims in 2011, there has been plenty of time for dear Voltage Inc to pile up their ever-increasing stack of games. As of June 2nd 2015, Voltage currently has about 27 translated games available for English-speakers to purchase. And this number is, can and―judging by the amount of money being poured into the company―will keep growing. To those who have been around when Voltage Inc. was still getting their wings (I myself have been a fan since early 2013), they find it thrilling when a new game to play with a host of new potential dates comes their way. But to those English-speakers who have begun to test the Voltage Inc. waters, they might feel as though they are at the bargain movie bin at a Wal-Mart; too many choices, not enough organization to really tell what's there.
Understanding the concept of having so many options you might not know where to begin, I decided to take this problem to the current Voltage Inc. fans, both the old and the new, to find some kind of answer to give those English-speakers who feel lost when gazing upon Voltage Inc.'s myriad of handsome men. Using a poll and all 27 titles as choices, I took to tumblr, to Facebook, and all the social media cites at my disposal, and asked them to vote on which five games they would recommend for these newcomers to help give them some direction. This article I'm presenting here for you, the reader, right now, is their answer.
These are the the Top 5 Voltage Inc. Games Recommended to English-Speaking New Players.
No. 5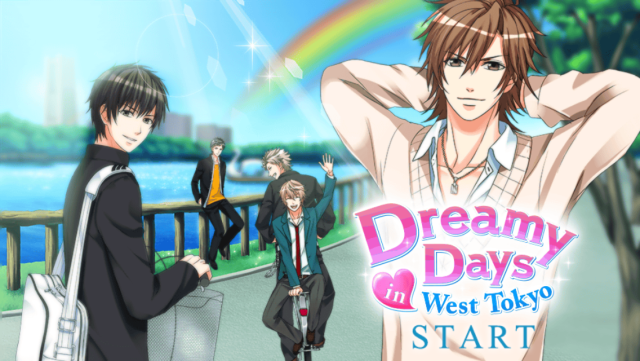 With a total of 90 votes, the No. 5 slot goes to a game whose atmosphere is "dreamy" in multiple ways. Released in October of 2013 for English-speakers, Dreamy Days in West Tokyo (DDIWT or DDWT for short) is set in a small town in Japan, where you (the nameable main character), are returning to your childhood home after moving away for some years. Upon your return, you are reunited with your childhood friends, who all happen to have grown into absolutely handsome young gentlemen, and you begin living in an apartment over a restaurant, owned by your equally handsome landlord. Here, you are able to choose between an interesting yet familiar mix of characters, such as a young man who might seem mean but hides his kindness, or a popular boy who loves to take care of you. DDIWT allows the player to live out (or re-live) their high school experience in a way they could have only dreamed about before.
Why Was This Game Chosen?: While DDIWT does invoke emotion, this game won't have you feeling overwhelmed by the presence of its characters; this game is designed for the player who wants a peaceful and cute kind of love story. It will not only appeal to the fans who might be wistful for innocent fun, but Dreamy Days in West Tokyo seems to be aimed at the Voltage Inc. audience who might long for a high school romance yet to (or that might not have ever) come their way. The game is also a must if you enjoy the idea of your childhood friend professing their unbridled love for you.
Like most Voltage Inc. games that have been around for a couple years, there are multiple seasons (just like their would be seasons of a TV show) as well as short stories apart from the main plot of each route. After the first season, the time has skipped and the themes might be a bit more adult then before because the characters have gotten older, but compared to some of the other Voltage Inc. games, DDIWT is still a tame dating sim. There are also stories and characters that have yet to be released, so keep an eye out for new content. The prologue of the game is free when you download (this is true for every Voltage game) and they offer a one chapter free trial of the starting routes, but the rest must be purchased.
No. 4 
Ever caught yourself daydreaming about what it would be like in an Arsène Lupin novel or the member of a guild of professional burglars? Look no farther; Voltage Inc.'s Love Letter from Thief X is exactly what you want and more. LLFTX is one of Voltage Inc.'s earlier games, but the game itself is incredibly popular, so the fact that it received 95 total votes in the poll isn't really surprising. You (the nameable main character) are a diligent museum curator, but a chance interaction with a band of gorgeous thieves with a curious interest in your family line turns your life upside down. From then on, your life becomes an exciting adventure ripe with break-ins and disguises, as well as some heart-stopping romance. The game was made available in English in December 2012, and it allows the player to pursue characters who are not only thieves, but characters who antagonize those thieves, such as a police officer and an FBI agent.
Why Was This Game Chosen?: Love Letter from Thief X puts the player in a situation that is quite unbelievable, but it also blends in a bit of reality within the fanciful elements of the game, as the characters have alter-egos. The game itself is fast-paced, exciting, and allows the player to break some rules while living out a steamy love affair. These elements can draw in many players who prefer to walk on the wild side with their otome games. And, of course, the characters in LLFTX are incredibly unique. Each love interest has something special that makes them stand out from the rest, and all of the dating sim archetypes we know and love exist in the game; sweet and devoted, arrogant and passionate, playful and loving, rough on the outside but soft on the inside―you name it, LLFTX has got it.
Love Letter from Thief X is also a bit more adult than some of the other Voltage Inc. games, but that certainly is not something that will keep players at a distance. If you're interested in a more mature kind of romance, then this game delivers. The game also has quite a bit of content in regards to side stories as well as what-if scenarios that are amusing to see. If you're interested in seeing what Love Letter from Thief X is like, download it from the Android or IOS and play the prologue for free.
No. 3
If mythology is your obsession of choice, then Star-Crossed Myth is the game for you. SCM is one of Voltage Inc.'s more recent games, as it was released in English this past February. You (the nameable main character) lead a simple life with a job at a planetarium, but one night you see a shooting star falling outside of your window. Seems normal right? Wrong. As fate would have it, it's no ordinary star. As it reaches land, you find yourself surrounded by a gaggle of gorgeous gods who call themselves "Princes of the Stars". Each of these gods governs a different constellation (Gemini, Aquarius, you get the idea), and have found themselves banished from their homes for their committed "sins", and the only way those sins can be absolved is through you. Trust me, you'll want to help them. SCM is a titillating game, and the characters are some of the most stunning in the Voltage Inc. franchise when it comes to art and color. Each god has their own reasons for why they've found themselves stuck on Earth, and each one has hot or cold feelings for you. Those who dream of a fantasy romance only told in ancient tales will find themselves enchanted by the world that is Star-Crossed Myth.
Why Was This Game Chosen?: While I do think that the newness of the game has something to do with its popularity, I don't think that is the only reason why it ended up with 98 votes. SCM has a great appeal to the Western audience, as it is centered around primarily Western mythology (otherwise the characters wouldn't have Greek names and the constellations wouldn't be named Leo and Scorpio and the like). It presents a familiarity that English-speakers will be comfortable with. Not to mention the sprites for the characters are stunning. Did I mention the art in this game already? I'll mention it again. It's 10 out of 10.
In comparison with the Western appeal, this game appeals to lovers of more quixotic stories instead of the more realistic dating sims. Sadly, no handsome gods can fall from the sky to sweep us off our feet, but, really, why not go to where some can, even if it's just vicariously? SCM allows the player to escape into a world where the impossible is possible, and they can get their own sexy god to make them swoon while they're there. The game is a more mature one in regards to the romance, so players looking for a sophisticated, provocative romance in their fantasy stories will have their desires doubled. Star-Crossed Myth is definitely not for the faint of heart, but it's a game that appeals to so many audiences that its rising popularity now seems inevitable. The game is still new, so content for it is a bit thin in comparison to some of the other games, but there is no doubt that will gain more as time goes by. If Star-Crossed Myth is a journey your interested in taking, you can test it out by playing the prologue for free, and you can sample some of the routes. Just download it at Google Play or iTunes.
No. 2
Your Majesty, welcome to the sensational world of Be My Princess. With 8% of the total votes on the poll (114 votes in total, if you want to know), Voltage Inc.'s most royal dating sim has stolen the second place spot as the Voltage Inc. Game Most Recommended to English-Speaking New Players. Approached by an elegant prince with an invitation, you (the nameable main character) attend a ball at a local castle in the town where you're studying abroad for university. There, destinies collide as your handsome prince literally offers his hand for a dance in the most Cinderella like way. After your thrilling night, a series of events finds you living in the prince's castle, and your love story begins. Each of the available princes rule neighboring kingdoms, and there is also a route for a very popular side character in the game. BMP is one of Voltage Inc.'s earliest games—the third game released by the company overall—so this game has some serious longevity. Though originally the game was discontinued, the addition of another new character saw to its revival. BMP is an essential play for the Voltage Inc. fan, and, trust me, you won't be disappointed by this kingly game.
Why Was This Game Chosen?: Reason One: Princes. Need I say more? This is a game that's got it's eye on those who love to binge Disney Princess movies and spent their childhood avid for a crown and a prince to share it with. Reason Two: There is a massive amount of content for BMP, so even if you finish the main route, there's plenty of sequels and side stories to feed your addiction. Reason Three: Not only are the princes drool-worthy, but so are their butlers, who have garnered so much popularity among the Voltage Inc. fans that they even have their own side stories (trust me, you'll fall for at least one butler in one game, they're adorable). Reason Four: If seiyuu is/are your thing, BMP has a Drama CD staring the remarkably talented Nobuhiko Okomoto, Showtaro Morikubo, Ryouhei Kimura, Takahiro Sakurai, Hikaru Midorikawa, Daisuke Namikawa and Daisuke Hirakawa.
Reason Five: There is a sequel game to BMP called Be My Princess 2, which takes place in the future with the progeny of the former princes in the first game. It's like falling in love all over again. Though, I would highly recommend playing the first BMP to get the full effect of BMP 2. Reason Six: There is a free version of this game. I'm not kidding. A free version. It's called Be My Princess: Party. The story is a bit different than the paid for version, nevertheless, it's still just as good. And free. Like, no money involved. How can you say no at that point? Even so, the paid for app is equally as fun, comes with so much content that you'll need five seconds to breathe, and unlike the free app, you don't have to wait or go through too many bells and whistles to get the content. Just pay for it up front. The world is your oyster. Note: there is no free version of BMP 2 (maybe one day...).
If you are intrigued like I know you should be, just head on over to the app store and pick up either version of this game today. Or both. Both is good.
Last but certainly not least...
No. 1 
To old hand Voltage Inc. players (myself included), this is probably not a very shocking reveal. However, if you are a newcomer to Voltage Inc., lend me your ears, because you are gonna want to hear this. Coming in with 10% of the votes with 151 votes in total, Voltage Inc.'s classic otome game My Forged Wedding takes the title of Most Recommend Voltage Inc. Game for English-Speaking New Players. And with good reason. Eager to start a new chapter in your life after college, you (like all Voltage Inc. games, the nameable main character), move to a new town to live with your "uncle", who has promised to help you spread your wings. However, there is a catch. Some close friends of your "uncle" are in desperate need of help that only you can give, and he's promised to help you find a job in exchange. What do they need you for? To pose as their wife pro tempore. Puts Las Vegas weddings to shame, doesn't it? Little to the two of you know, this is the start of your true lifelong romance where a real wedding might not be that far-fetched. Released in March of 2012 in English, My Forged Wedding is Voltage Inc.'s second oldest game and arguably the most popular game they've created, due in part to the undeniable appeal of the game's available men.
Why Was This Game Chosen?: Where do I start? Straight from the horse's mouth, when asked which games would be the best to recommend to newcomers, Voltage Inc. execs Tsutani and Hiasghi replied My Forged Wedding due to its widespread popularity across the globe, citing that the game is "a good balance of both fantasy and reality". If Star-Crossed Myth and Love Letter from Thief X are a hot night out dining and dancing, then My Forged Wedding is a cozy, yet sensual night in with candles under the covers. It's a familiar setting with a sexy twist, which is the best guilty pleasure if you ask me. The men in the game are the kind of guys that can only exist in an otome game, not to mention they are some of the most distinctive in the franchise. Like BMP, My Forged Wedding also has a free version called My Forged Wedding: Party that operates in an almost identical fashion. Don't let that keep you from the paid version of the game, though, because it is just brimming with otome goodness. My Forged Wedding has loads of content due to its age and it is still pumping out content with new characters, side-stories, crossovers, the list goes on. It begs the question: what does My Forged Wedding not have? You'll have to be the one that answers that question, but it'll probably be that it needs even more content. That's my answer, anyway.
So there you have it. If you find yourself vexed when approaching Voltage Inc. games, the only thought on your mind being "Where on Earth do I start?", here's some advice from the Voltage Inc. Veterans who have spent precious time and money to supply this information to you. However, if there is a game that didn't make it on this list that you can't just get out of your head, then my advice to you would be to take the plunge. Ultimately, you'll never know what you'll like until you're willing to sample all of it, and Voltage Inc. is kind enough to allow it's users to do just that before anything is purchased. I can honestly say while I haven't bought every single route from every single game, I have yet to play a Voltage Inc. title that did not impress me, so if you're interested in what Voltage Inc. has to offer, I can say that I (as well as the few hundred people that took my poll) wholeheartedly believe that Voltage Inc. will not make you feel like you've wasted your time. The company is kind and fair, and what they have to offer is worth what you give. If this article helps any newcomers to Voltage Inc., then I'll call my job done and know that the fans and I have helped someone find a small patch of happiness.
And maybe made their wallet cry.
Source 1 Source 2 Voltage Inc. Poll Results All images are taken from the Voltage Inc. Wiki 
Special thanks to the Voltage Inc. fan communities on Facebook and tumblr  and tumblr user hopethething for making this article possible.